Finding the Right Investment Property for your situation
Anyone can find and buy an investment property. But it's a lot harder than you think.
When most people look to purchase an investment property they will often buy with their heart, or buy with the desire for them or a loved one to move into it one day, or buy because they know the area, or buy because they think it will make them money.
Sadly these strategies are fraught with danger.
When buying an investment property, you are effectively buying a small business, and when buying a small business the most important thing to look at is Cash Flow. Without it, you won't be in business long, and an investment property without cash flow is going to cost you money. Sometimes money you don't have. So, if you don't have the cash flow, then you will have to sell the property and often this will mean you have to sell at a lower price than you would like, and like some people we have seen, at a substantial loss…!!!!
There are only a few things that you have to make sure you get right at the front end of purchasing an investment property, and if you take a short cut on any of these, then you will have problems.
We believe there are 3 key factors when looking for an investment property.
By using these 3 key factors, we know what needs to be done to set up a sound, financially strong investment strategy, as we base our recommendations on YOUR numbers, and what you can afford to purchase.
We also look at the "What If's" and look at things like interest rate variations, and potential changes in your personal cash flow situation, both of which can have a dramatic effect on your investment strategy.
All of this will enable us to source & tailor an investment strategy to suit your income, lifestyle and growth opportunities while optimising your cash flow.
Another very important factor to consider is your rental income, and with our 10 Year Rental Guarantee you will have peace of mind to know you have rental income coming in every day, week, month and year for the next 10 years.
Below are some great examples of our recent sales.
Caboolture
QLD
NDIS SDA HOME
2 x 1 Bedroom Dual Income Home
Land Price 600m² – $225,000
Dual Income House Price – $424,500
Total Package Price – $649,500
Rental Income – $2,000.69pw
Gross Rental Return – 16.06%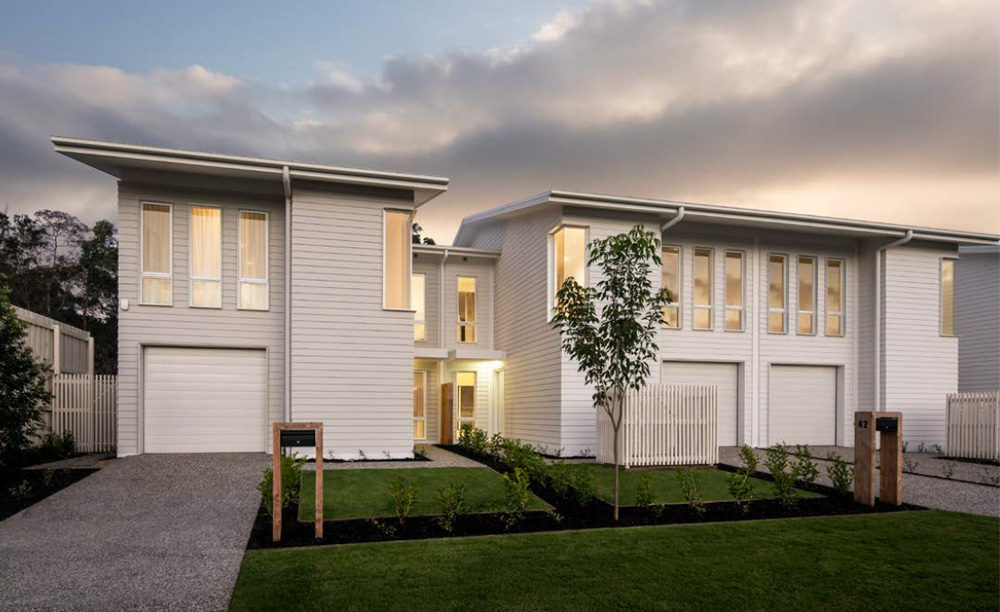 PIMPANA
QLD 
3 Bedroom Terrace
3 Bedroom Terrace House

Package Price – $430,000

Total rental Income – $460pw

High Growth Area

Including 10 Year Rental Guarantee
CABOOLTURE
QLD
3 x 1 Bedroom Dual Income Home
Land Price – 440m2 – $202,000
3 x 1 Bedroom Dual Income Home – $268,000
Total Package Price – $470,000
Total Rental Income – $600pw
Excellent Growth Potential
Steel Frame & Truss Build
Including our 10 Year Rental Guarantee 
Port Macquarie
NSW
2 x 3 Bedroom Duplex
2 x 3 bedroom Duplex

Land Price – $325,000

Duplex House Price – $586,800

Total Package Price – $911,800

Rental Income – $910pw

Strong Equity Uplift on Completion

Including 10 Year Rental Guarantee
BALLARAT
VIC
4 Bedroom, 2 bathroom, Double garage
Land  490m2
Total Package Price – $395,000
Rental Income – 3 Bedroom – $390pw
High growth area
Vacancy rate 1.4%
Including our 10 Year Rental Guarantee
Cliftleigh
Hunter Valley NSW
4 Bedroom House and Land Package
4 Bedroom House and Land Package

Land Price 593m2 – $199,900

House Price – $270,805

Total package Price – $470,705

Rental Income – $490pw

High Growth Location

Including 10 Year Rental Guarantee 
I was referred to P.I.S by close friends, and i have had nothing but smooth sailing in dealing with Maria. Her attitude towards reaching the end goal was abundantly optimistic.... read more I am so happy with everything provided by Maria and the team.

Henkenlenkin Ivaldi

Maria has been extremely professional & friendly in all our property dealings. I was very impressed with her extensive up to date property knowledge and she was able to match... read more our investment requirements to the ideal property. I can thoroughly recommend Maria to find you what you are looking for..!

David Barrett

PIS is a one stop shop. Buying a house that you cannot see, sitting 1000kms away is always challenging. PIS made it very easy. Andrew is awesome, friendly, great communicator and... read more has a great knowledge of the industry that he functions in. He is backed by excellent support team. The entire team made our investment property buying experience a dream. In the end it felt so easy.

Kaustubh Nadgauda