Finding the Right Investment Property for your situation
Anyone can find and buy an investment property. But it's a lot harder than you think.
When most people look to purchase an investment property they will often buy with their heart, or buy with the desire for them or a loved one to move into it one day, or buy because they know the area, or buy because they think it will make them money.
Sadly these strategies are fraught with danger.
When buying an investment property, you are effectively buying a small business, and when buying a small business the most important thing to look at is Cash Flow. Without it, you won't be in business long, and an investment property without cash flow is going to cost you money. Sometimes money you don't have. So, if you don't have the cash flow, then you will have to sell the property and often this will mean you have to sell at a lower price than you would like, and like some people we have seen, at a substantial loss…!!!!
There are only a few things that you have to make sure you get right at the front end of purchasing an investment property, and if you take a short cut on any of these, then you will have problems.
We believe there are 3 key factors when looking for an investment property.
By using these 3 key factors, we know what needs to be done to set up a sound, financially strong investment strategy, as we base our recommendations on YOUR numbers, and what you can afford to purchase.
We also look at the "What If's" and look at things like interest rate variations, and potential changes in your personal cash flow situation, both of which can have a dramatic effect on your investment strategy.
All of this will enable us to source & tailor an investment strategy to suit your income, lifestyle and growth opportunities while optimising your cash flow.
Another very important factor to consider is your rental income, and with our 10 Year Rental Guarantee you will have peace of mind to know you have rental income coming in every day, week, month and year for the next 10 years.
Below are some great examples of our recent sales.
Caboolture
QLD
NDIS SDA HOME
2 x 1 Bedroom Dual Income Home
Land Price 600m² – $225,000
Dual Income House Price – $424,500
Total Package Price – $649,500
Rental Income – $2,000.69pw
Gross Rental Return – 16.06%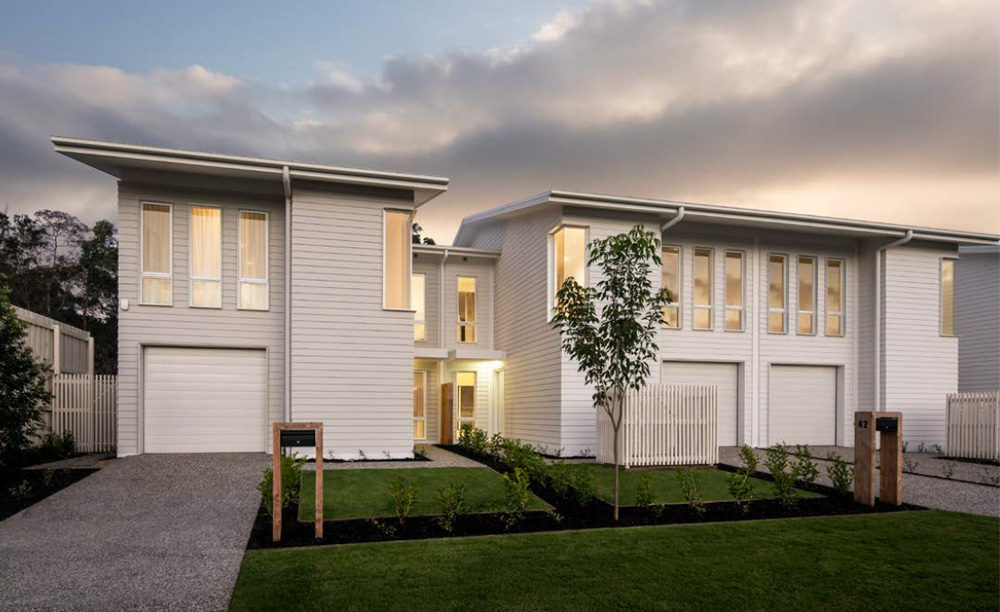 PIMPANA
QLD 
3 Bedroom Terrace
3 Bedroom Terrace House

Package Price – $430,000

Total rental Income – $460pw

High Growth Area

Including 10 Year Rental Guarantee
CABOOLTURE
QLD
3 x 1 Bedroom Dual Income Home
Land Price – 440m2 – $202,000
3 x 1 Bedroom Dual Income Home – $268,000
Total Package Price – $470,000
Total Rental Income – $600pw
Excellent Growth Potential
Steel Frame & Truss Build
Including our 10 Year Rental Guarantee 
Port Macquarie
NSW
2 x 3 Bedroom Duplex
2 x 3 bedroom Duplex

Land Price – $325,000

Duplex House Price – $586,800

Total Package Price – $911,800

Rental Income – $910pw

Strong Equity Uplift on Completion

Including 10 Year Rental Guarantee
BALLARAT
VIC
4 Bedroom, 2 bathroom, Double garage
Land  490m2
Total Package Price – $395,000
Rental Income – 3 Bedroom – $390pw
High growth area
Vacancy rate 1.4%
Including our 10 Year Rental Guarantee
Cliftleigh
Hunter Valley NSW
4 Bedroom House and Land Package
4 Bedroom House and Land Package

Land Price 593m2 – $199,900

House Price – $270,805

Total package Price – $470,705

Rental Income – $490pw

High Growth Location

Including 10 Year Rental Guarantee 
What Our Clients Say...
Mr Andrew Brooke, my consultant is very professional yet very personable. He and his team is highly recommended. I am amazed with their Property knowledge & expertise. The communication was good. The customer service was awesome & pleasure to deal with. They give the best decision & guidance. Great team to work with. I appreciate their patience & guidance. They pointed out positive cash flow property which get rented immediately Very happy & would recommend to other investors.
I highly recommend Property Investment Store as investment property consultants. It has been a pleasure working with Darren from the very initial stages of doubts and contemplation through the whole process of making the right choices and purchase. He provided us with a wide range of options tailored to our goals and requests. When the right option came up, Darren guided us step by step, connecting us with other excellent professionals through the process. He has followed up on all the emails and enquires, and provided answers to all our questions. I would recommend Darren for his exceptional clients service and understanding of the market even in times of uncertainty.
The Property Investment Store has now assisted me with a duplex purchase in Pimpama and an NDIS property also in SE Queensland. Andrew has been incredibly patient and helpful as over time we looked at many different options and I asked lots of questions before landing on the final properties that were purchased. During the purchase process, and also through to the buildings being completed, he and the team went way above and beyond in the service they provided. Their guidance and support throughout was fantastic. Doing my checks and sums beforehand I found the profitability forecast calculations that were provided were appropriate and / or conservative. Re the NDIS investment both Anthony (director) and Andrew were transparent about some of the hurdles they were overcoming during the early stages of the scheme. Though I came up with a number of different ideas, Andrew (and the experienced team behind him) was excellent to help highlight the potential pitfalls and saved my skin (financially) a few times with his experience and knowledge 🙂 Above all the service included genuine care and was focused on the clients needs throughout. Sincere thanks guys
Maria's passion and knowledge in this field is incredible. Highly recommend .
Peter Swatosch
2020-10-26
Maria and Andrew were absolutely amazing. They answered all of my silly questions and held my hand throughout the entire process. I would highly recommend PIS to anyone like me who are a little unsure of buying their first investment property because they made the process easy to follow and connected me to all the right people. Thank you both and cannot wait to start expanding my portfolio!!
I recently met Maria to discuss some investment opportunities and trends in the national property market. Maria was knowledgeable, friendly, inspired confidence generally made it easy to learn about, consider and compare investment opportunities. Her obvious passion for real estate and investment, together with her warm and engaging personality, put me quickly at ease and I was left with little anxiety about working with her. All in all, I highly recommend if you are learning about or considering getting your foot in the door to invest in property, talking to Maria at the Property Investment Store is a must!!!
Maria is knowledgeable and passionate about giving her clients the best possible experience and ROI.
The quality, dedication and passion that Maria and the team bring to the table is second to none when it comes to property and their service.
Clayton Navarro
2020-10-23
Darren has been excellent! He has helped us through the purchase of our first home every step of the way. He has been available to answer questions both through email and zoom and has delivered us an outstanding opportunity to own an investment property. He is very knowledgeable and professional. Definitely recommend!
Darren has gone above and beyond for us in the purchase of our property - our experience has been fantastic. Constantly keeping on top of changes and status updates, following up the developer and keeping us abreast of upcoming deadlines has made the process great for us. I'd recommend Property Investment Store and Darren for anyone looking to purchase!